Tractors on the Roadway
Per the Arizona Farm Bureau, thousands of highway accidents involving farm machinery occur each year even when farm equipment is clearly marked with slow moving vehicle (SMV) signs. Farm vehicles traveling 25 mph or less are required to have SMV signs.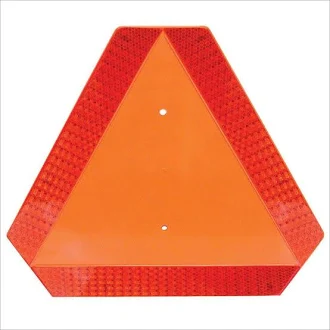 Often tractors must use public roadways to travel between fields or operations centers. Farm equipment must adhere to laws of the road and certain safety requirements. A farm vehicle should be operated by the farm vehicle owner, family member or employee and within 150 miles of the farm vehicle owner's commercial farming or commercial stock raising operation.
Farm equipment is wider than normal vehicles, and sometimes even wider than the lane markings. A farmer driving in the far right lane and partly on the shoulder may move farther into the roadway when an obstacle on the shoulder (mailbox, bridge or sign) forces them to avoid the obstacle. Farm equipment is large and loud so the farmer may not even see your vehicle.
Safety Tips for driving your vehicle when approaching farm equipment are:
Determine whether the tractor is stopped, slowing or preparing to make a turn
Pass farm equipment with caution – slowly and carefully looking out for other vehicles and sudden turns
Watch for hand signals, turn signals or other signs the farm equipment is preparing to turn
Be aware of traffic behind you that may try to pass both you and the tractor
Stop when approaching farm equipment coming from the opposite direction that is wider than the lane of traffic
If you are driving 55 mph and come upon a tractor that is moving 15 mph, it only takes five seconds to close a gap the length of a football field between you and the tractor